it has been a long time since i've written a product review.  i've been so busy playing with new toys and reading new books to take the time to review baby gear.  but yesterday, i came across a product so crappy, that i felt compelled to share.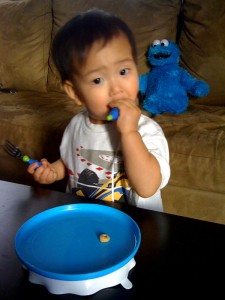 lately, i have doing pretty well feeding myself with a spoon and fork.  i usually use regular adult sized plasticware, but sometimes, i get to use real silverware like a grown-up.  but because i am such an aggressive stabber, mama thought it would be in the best interest of the dining table, koda, and everything else around me, to get me some eating utensils that are a little less sharp.  she had already decided on the gerber graduates safety fork and spoon set.  they are just the right size for my little hands, and well-textured to make for easy gripping.  plus, they come in cool colors!
so we went to the store to buy my utensils, and we saw a tableware set that included the fork, spoon, and a suction plate!  perfect, right?  i have been wanting a suction plate for awhile, but eating right off my booster- or high-chair tray has been working out fine, so i never got around to getting one.  but since the set was right there, and so nicely packaged, we decided to get it.
first of all, the suction piece is removable.  great, more parts to keep track of.  secondly, it is not intuitive to assemble.  mama is at least as smart as the average mom out there, and it took her a long time to figure out how to attach the suction piece.  auntie judy couldn't even figure it out, and auntie judy is super smart!  and most importantly, the suction DOESN'T WORK.  even if you get it to stick, it un-suctions itself after just a few seconds.
mama searched online to see if she was doing something wrong, and in the process, she ran across many reviews for this product.  they are all terrible.  she should have done her homework before buying this useless piece of _____.  (i dunno what word you chose to insert there, but i was thinking "plastic".)  moral of the story: impulse shopping = bad.
li'l trainer tableware by gerber graduates: 🙂 🙂 (out of 5 :))
(2 smileys for the the spoon and fork, but don't waste your money on the 3-piece plate assembly.)
Tags : product review | add comments