when auntie mimi came to visit last weekend, she and mama were talking about how parents take care of their kids.  they bring us blankets when we're cold, they cook us healthy meals when we're hungry, and they always make sure we're okay — no matter how old we are.  but then mama said something about how there comes a day when the roles get reversed.  kids start bringing blankets to their parents, and cooking for them, and making sure they're okay.  well, i think that time has come for us.  let's face it — mama and daddy are really old.  and since today is mama's birthday, that means she is getting even older.  so i've taken it upon myself to start taking care her and all of the old people in this house.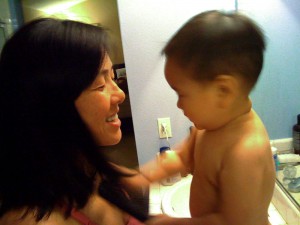 at nighttime after i take a bath, mama brushes my hair.  i don't really have a lot of hair to brush, but it tickles my head and it makes me laugh.  lately, i've been grabbing the brush from her so i can brush my own hair.  and when i'm done with that, i stand up and brush mama's hair too.  sometimes i bang the brush on her head to tickle her, but she doesn't laugh 😛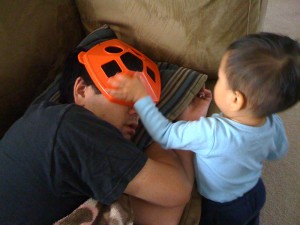 and when gung-gung is sitting in the living room, i often bring him one of my blankets to cover his legs.  he must be cold all the time because he always thanks me very enthusiastically.
so the other day daddy when daddy was napping on the couch, i thought he might be cold.  he already had a blanket, but his head was not covered.  so i brought him my "hat".  it's really the top to one of my toys, but i often wear it as a hat.  hey, it's the thought that counts, right?  (and daddy didn't even wake up when i not-so-gently fitted my hat to his head!)
Tags : | 1 comment