halloween is the BEST… HOLIDAY… EVER!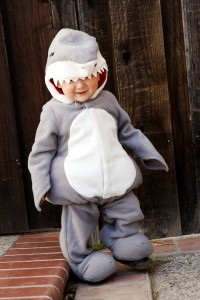 mama had planned to take me out to a few houses in our cul de sac so that i could get some more use out of my awesome shark outfit. but i wasn't ready to quit after just 3 houses! i signed "more" to mama, so we kept on going. my $1 treat bag got so heavy that the handle broke off of it (i guess you get what you pay for), but that didn't stop us.  we kept on trick-or-treating until my bag was overflowing.
at the first few houses we went to, mama knocked on the door, and i just stood there. i didn't know what to do. then someone opened the door, mama said "trick or treat", and then the person gave me handfuls of candy.  cool!  by the 3rd house, i started to get the hang of it.  banging on doors looked like fun, so i helped.  i banged on the door, then turned around and laughed while i kept on banging.  a couple of times, i fell into the neighbor's house when the door was opened 😛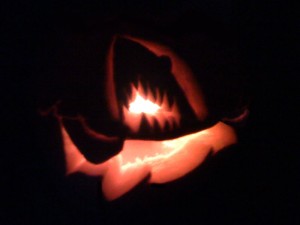 at every house, i smiled and waved vigorously to the candy-giver.  they all ooohed and aaahed, and  many of them called over other family members to take a look at all my cuteness.  two different neighbors even took pictures of me.  it was like they had never seen a shark before!  after i got my candy, mommy would tell me that it was time to go, but i continued to stand on the porch and flap my fin.  it would have been rude to just take the candy and run, right?
when we got home, i told daddy that he needed to step up the candy-giving because all of our neighbors are so generous.  we don't want to be known as the stingy house on the block!
this was the greatest holiday ever.  maybe next year, mama will let me help her stab a pumpkin and mush up its guts.
Tags : halloween | 2 comments