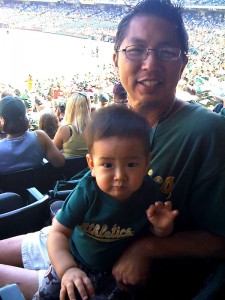 i got to go to my first baseball game today!  uncle henry got a bunch of my aunties and uncles together to watch the A's play their last home game of the season. he even got us seats in the shade just for me!
mommy told uncle henry that she and i were going to wear SF giants jerseys because we don't look good in green (not to mention that she's more of a giants fan).  mommy was just kidding, but uncle henry wasn't taking any chances — he bought me an A's shirt to wear.  thanks uncle henry 🙂  does that mean that i hafta be an A's fan, like you and daddy?
as professional sports go, mommy and daddy have taken me to lotsa hockey games, and now a baseball game, too.  baseball is not as fun to watch as hockey.  the players were mostly just standing around and they weren't all that exciting to watch.  so to entertain myself between plays, i climbed on the seats, threw things several rows down in front of me, ate peanut shells off the ground, and pulled uncle henry's soda out of his cup holder and poured it upside down.
but despite the differences between hockey and baseball, there are some important similarities.  i have been paying attention to both sports and i've learned a lot.  and mommy and daddy wonder why i like to swing big sticks and hit things (and people)…
Tags : sporting events | 2 comments