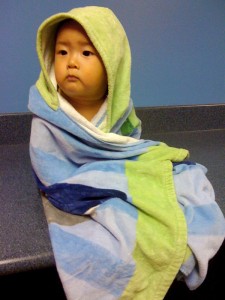 i knew that today was going to be my last swim lesson (for this summer session, anyway) and i wanted to make the most of it.  daddy thought that i didn't want to swim because i kept climbing out of the pool, but i was just practicing.  i swam to the wall, climbed out of the pool (which i was not able to do by myself at the beginning of summer), and then "dived" back in.  and then i did it again.  and again.  and again.  i think i did that about seven times.  i'm not really sure though because i can't count that high.
but somehow, i managed to spend enough time in the water to demonstrate my excellent swimming skills and graduate from swim school!  i am an o-fish-al pollywog!  (it says so on my graduation ribbon 🙂 )
my o-fish-al swim movie is below, but if you are interested in seeing my practice footage, you can see that here.
Tags : video | 6 comments