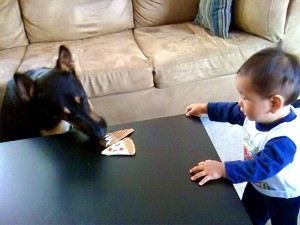 my big brother koda-leave-it (i just call him koda, for short) turned 2 years old today!  he celebrated at point isabel with his sister kiara and his friends, tachi and wrigley.  mommy made some special birthday treats for koda to share with his friends.  uncle henry brought some treats for kiara to share also.  the ice cream and pizza that koda got sure looked tasty!  how come nobody shared any with me? 🙁
mommy and daddy (who are both first born children in their families) think that older brothers/sisters "break-in" their parents for their younger siblings.  i gotta admit, i think they've got a point.  so on koda's special day, i want to thank him for all the things he taught mommy and daddy, paving the way for me.  these are just some of them.
a fat puppy/baby = a happy, healthy puppy/baby.  that's right — feed us well, and feed us often!
if we have trouble latching, it helps to put some milk on the tip of the nipple, wiggle the bottle over our lips, and tug at the bottle so that it forces us to suck.
a little vomit/spit up or diarrhea is nothing to worry about as long as we're still eating and playing normally.
when we're chewing on electrical cords (or other things that we're not supposed to), don't just take them away — replace them with things that are okay to chew on.
when we're scared, don't reinforce our fear/insecurity by babying us.  continue to act like everything is a-okay… and then it will be.
expose us to lots of people/experiences/sights/sounds early in life so that we'll grow up well-balanced and with good habits (e.g. comfortable in water, brushing teeth, sharing toys, etc.).
teach us not to bite/hit/jump even when we're small and cute.  it won't be so cute when we get bigger.
talk to us like we understand you.  we understand more than you think.
let us make mistakes and get (a little bit) hurt.  that's how we learn.
take lots of photos because we grow up so fast!
uncle henry says that mommy should write a book called "everything i needed to know about raising a child, i learned from my puppy".  i hope she does so that she can get rich, quit her day job, and play with me all day long.  and i think we need to foster some puppies too, so that mommy can get more material for her book.  i will even help bottle-feed them since i always wake up in the middle of the night anyway.
happy 2nd birthday koda!  (why do people keep saying that he is 14?)
Tags : koda | 6 comments