for about 3 months now, i've had a regular bedtime around 7:30pm.  and for the past two weeks, i've been sleeping through the night with only one midnight feeding.  (this just happens to be right around the time that mommy went on her last business trip.  coincidence?  i think not.)  this is my nighttime schedule:
6:00pm:  dinner
6:45pm:  bathtime (every other day)
7:00pm:  change into jammies, brush teeth
7:10pm:  bedtime stories
7:20pm:  nursing and singing
7:30pm:  zzzzz
12:30am:  midnight snack
6:00am:  rise with the sun
sure, i still wake up during the night sometimes, but mommy has learned that if she doesn't come running, i almost always go back to sleep in less than a minute.
so this is great news, right?  well… sort of.  my predictable schedule works to mommy's and daddy's benefit most of the time, but it can also put a damper on their social life.  back in the day, i could go anywhere, anytime.  and if i got tired, i would just sleep — no matter where i was.  but now that i'm older, i've not only become set in my ways, but i'm also a party animal who doesn't want to miss out on any action.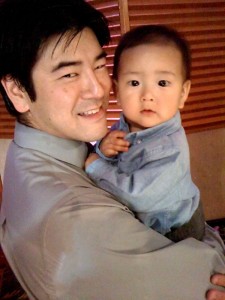 over the weekend, mommy and daddy brought me to a wedding reception.  they hoped that i would be so excited by all of the activities that i would be wide awake and wide-eyed with awe until i passed out from exhaustion — just like when we go to sharks games!  the wedding reception was beautiful and perfect, and it seemed like it was going to be a successful outing for us… until about 7:30pm.  i got sooo tired, but i refused to sleep.  where was my crib?  where was my bernie bear?  and why was i wearing slacks instead of my comfy footed sleeper?  plus, i didn't want to go to sleep and miss out on the party!
i fought to stay awake for another hour and a half, but i was fussy and squirmy and very unhappy about not being allowed to climb and crawl around.  i think the only reasons why my aunties and uncles didn't shove me into a closet are because (1) the music was almost loud enough to drown out my occasional screams and (2) i was pretty handsome in my fancy shirt and slacks.  daddy had to take me outside of the reception area (away from all of the fun festivities) before i finally fell asleep.
so…  what to do?  mommy and daddy think that i need to learn to adapt to different surroundings so that they can continue to take me places without causing a commotion.  i think that they need to adapt their social calendars (even more than they already have!) to revolve around my schedule.  i'm pretty sure that i'm gonna win this one.
Tags : sleep | 2 comments