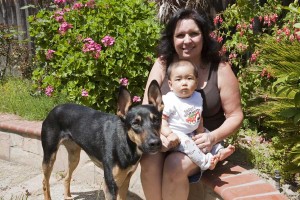 since the beginning of the month, both mommy and daddy have been working. and even though mommy works from home once in awhile (okay… most of the time), she has to concentrate on work and can't give me her undivided attention. so i got a nanny!
gung-gung told me about a theory that boys who have nannies grow up to be cheaters. apparently, it introduces the concept of the "other woman" who cares for and caters to their physical needs. hmmm… it'll be a few years before we can validate this theory. but in the meantime, miss denise (our nanny) is here to stay.
here are the top 10 reasons why we love having a nanny:
10)  i get to stay home with mommy and koda. my nap/sleep schedule, meals, and all the developmental changes that i'm going through are a little bit easier because i am in familiar surroundings.
9)  her hours are flexible. so if daddy has to go to work early, or if mommy has a late meeting, miss denise just hangs out with me for a little bit longer. or, if mommy finishes work early, miss denise just goes home early.
8)  i get one-on-one attention. this is especially important now that i am crawling around super fast and trying to walk everywhere (and falling down often, and hard). this also means that i get to go on walks around the neighborhood and to the park.
7)  i make my own schedule. i nap when i'm tired, i eat when i'm hungry, and my diaper gets changed as soon as it's dirty.
6)  when i am napping, miss denise plays with koda and takes him on walks.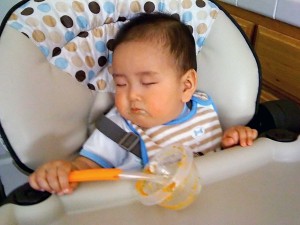 5)  miss denise is a germaphobe. she keeps my exersaucers, my play area, my high chair, and all my toys super clean and free of koda hair.
4)  when mommy is not around, miss denise helps me (and koda) write emails and send text messages to her so that she knows we're thinking of her.
3)  miss denise is very respectful of the way that mommy and daddy want to raise me, but she offers excellent advice based on her experience raising her own 4 kids (including a set of triplets!).
2)  mommy gets to see all my "firsts" 🙂
1)  and most importantly… if i grow up to be a womanizer, it won't be my fault! 😛
Tags : koda, nanny | 6 comments