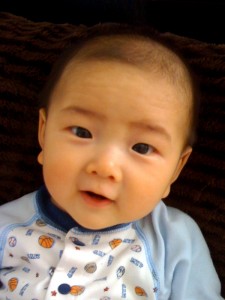 so much change… and i'm not talking about coins. my world is changing so much these days. but i guess that's just how it is when you're a little kid trying to grow up too fast.
now that we're back home from our little family getaway, i've once again been exiled to the co-sleeper. i guess i won't be making my way back into mommy and daddy's bed until i can physically climb into it. that won't be long from now 😀 i really miss sleeping with mommy and daddy, but they insist that it's best for me. but at least i get to stay in their bedroom, for now.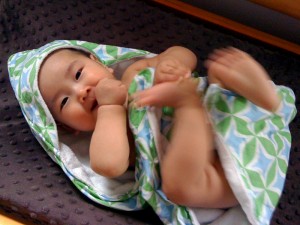 bathtime is less relaxing now that i've outgrown the hammock for my infant tub. i still enjoy my baths, but it's just not the same. when i try to lounge and dangle my feet outside the tub, i end up sliding down, and mommy has to continually prop me back up.
you already know about my two lower teeth. those things are old news. but now i have two little upper teeth, too! (uncle greg says i am like a beaver :() daddy is super proud of himself because he saw my upper teeth two days ago — before mommy noticed them! when mommy saw them, she looked really sad for some reason. i felt sorry for her, but daddy didn't. he just laughed. he said that every time mommy feeds me, he is going to sing the theme song from "jaws" and make chomping hand motions like when the sj sharks are on a power play. daddy thinks he's so funny. mommy was not amused.
and the BIGGEST change of my life has yet to come. mommy is going back to work in two days, and daddy will be taking care of me alllll day long. who do you think will be more sad? mommy? daddy? or me?
Tags : sleep | 4 comments