i spent this weekend hanging out with older women.  saturday was madisen's 1st birthday party, and sunday was brooke's.  i have a funny feeling that these are the first of very many 1st birthday parties that i'll be going to this year.  i guess 2009 was a popular year for babies.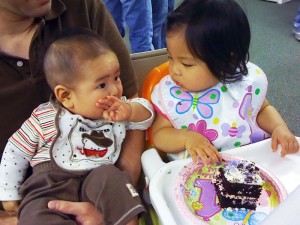 there were about 25 people at maddie's party, but there was enough food for 200!  teri chicken, kalbi, kalua pork, spam musubi, mac salad…  yup, maddie did it up island style.  mommy was sooo excited about the pineapple with li hing powder!  after we ate, we played with the toys, books, and soft blocks that maddie brought to share with her friends.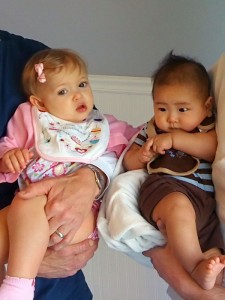 at brooke's party, there were about a million people.  i'm not really sure exactly how many because i can't count that high.  but there were a lot.  brooke served good ol' southern style bbq — big piles of meat with buckets of finger-licking delicious bbq sauce.  after lunch, a big pink and silver thing descended from a tree.  it looked sort of like a medieval morning star.  i wonder if that's why all the big kids took turns whacking it with a big stick until its guts spilled out.  mommy said that it was actually a pointed star pinata, and that its "guts" were just candy and dress-up jewelry.
the two parties were very different, but both were a lot of fun.  over the past couple of days, i learned a lot about how older women party.  i also took some notes about what i want for my own 1st birthday party later this year:
mountains of food – YES!
toys for friends to play with – YES!
pink princess hats for my friends – hats, maybe.  pink, no.  (and if you tell me that real men wear pink, you're not invited.)
birthday tiara for myself – umm, no.
medieval weaponry – undecided.  (depends on how rowdy my guests are.)
big cake for my guests – YES!
my very own cake that i can smear all over my face – DOUBLE YES!  (do you see the look that maddie gave me when i smashed my hand into her cake?  it was worth it though.  the cream cheese frosting that i licked off of my hand was delicious!)
birthday parties are so much fun.  i can't wait until i get old, too 🙂
Tags : friends | add comments