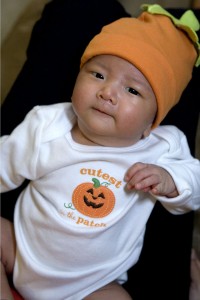 happy halloween from the cutest pumpkin in the patch!
i wanted to dress up and collect candy from our neighbors, but mommy and daddy wouldn't let me.  they said it would be too cold 🙁  so instead, i stayed home and helped koda pass out chocolate to all of the spidermans (spidermen?), witches, transformers, princesses, ladybugs, and other creatures that stopped by our house on their quest for candy.  we saw about 150 kids.  yay, that means there are about 50 pieces of candy left for me!  but somehow, i have a feeling daddy is going to eat them before i get a chance.
next year, i'm going to dress up as a cowboy and put a saddle on koda.  he can take me trick-or-treating while mommy and daddy stay home and give out candy.
Tags : halloween, koda | add comments