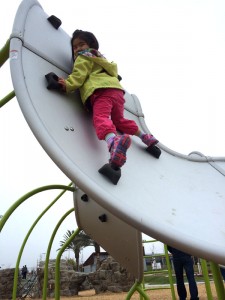 we've been hearing about the awesome new park by our house called rancho san ramon.  ever since it opened (about 3 months ago), everyone has been talking about it — cousin zoey, baby emma, all the people in our neighborhood — but we never bothered to check it out.  a park is a park, right?
we met up with isaac this morning to see for ourselves how awesome this park was.  we had really high expectations and we thought there was no way it would live up to the hype.  well, lemme tell you… best. park. ever.
the park has 3 separate play areas.  there are lots of interesting climbing and play structures, a curvy bouldering wall, and lots more.  the ground even makes music when you dance on it!  our favorites were the long bumpy slide and the zip line.  that's right, the park has a zip line!  how cool is that?
here are a few videos that show you some of the super cool features of rancho san ramon park.
just above the park is an open field with a dirt track.  because there wasn't enough to do in the playground areas (kidding), i ran around the track a few times while daddy timed me. that was fun, too. good times.
we hope that we get to go to this park all the time!  the only bummer is that we cannot ride our bikes there.  it is only 2 miles away, but there is a steep(ish) hill and a busy street between our house and the park.  oh well.
Tags : local hotspots | 4 comments