valentine's day is fun because you get to be a mailman (or mailwoman) and deliver cards and treats to all your friends!  last year, i spent a lot of time writing names on all my cards and carefully selecting the right card and pencil for everyone.  but this year, we were instructed to get gender neutral cards and to leave the "TO:" line blank.  i thought that was weird, but sienna's class (at a different school) got the same instructions!   so i guess that's a thing.  sure, it makes for faster distribution, but it takes some of the fun out of it.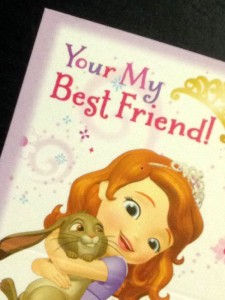 mommy took us to the store to buy gender-neutral cards, but there weren't a lot of options.  there were some cards with cats on them, but we didn't like them.  we insisted on getting spiderman and sophia the first cards.  (one of the sophia designs did not pass mommy's QA standard, but luckily, we had leftover minnie mouse cards from last year to replace them.)  we made treat bags for our friends with the card, a pencil, and heart-shaped chocolates in each one.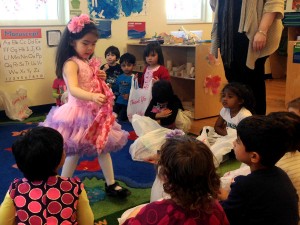 sienna had her valentine's day activity at school, yesterday.  they didn't really have a party, but they sat in a circle and took turns passing out cards and treats.  it turns out that some of the kids went to school with a sealed box of valentine's cards.  mommy was planning to stay just long enough to watch sienna pass out her cards, but she ended up helping the teachers prepare other kids' cards for distribution — opening the boxes, separating the perforated cards, folding the cards and tucking them into the pre-cut tabs, and sealing them with a sticker.  whew!  all the kids were instructed to bring the cards and treats home and ask their mommies or daddies for permission before eating them.  but when mommy picked sienna up from school yesterday, sienna got busted because of the traces of chocolate around her mouth.  good thing it was a kit-kat and not something with peanuts (which she is allergic to)!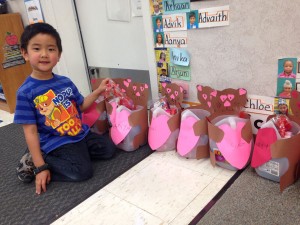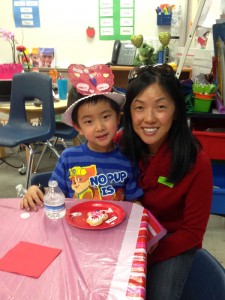 at my school, valentine's day is a big deal.  it's one of three big parties we'll have this year (the others are halloween and end-of-year).  we did valentines-themed crafts and activities, and we even got to frost and decorate a sugar cookie.. and EAT IT!  school policy only allows healthy food, so i guess that cookie must have been healthy.  it was delicious (and according to mommy, NOT healthy at all.)
during the party, we delivered cards and treats to everyone's beary special buckets (we made those in class earlier in the week).  at the end of the day we all got to bring our buckets home, overflowing with cards and goodies from our friends.  my favorite card that i got was from elle — not because i have a thing for her but because it was a paw patrol card!  i also brought home the special mother's day card that i made for mommy.  i can't wait to give it to her tomorrow. 🙂
2 Responses to "special delivery"
Mimi Says:
June 13th, 2015 at 11:37 pm

hmmmm… this is the second account in recent history of Sienna eating something and trying to hide it … good thing she's not very good at hiding the evidence! Shiloh tries to get away with things too …

kyden Says:
June 21st, 2015 at 11:49 pm

girls are sneaky!
Leave a Reply