on most mornings, mommy drops me off at kids' country.  she parks in one of the designated spaces in the parking lot, and walks me just a few steps to my on-campus before/after care program.  that's much easier than the days when she walks me to my classroom because we have to find street parking and walk (sometimes pretty far, sometimes uphill) to my school.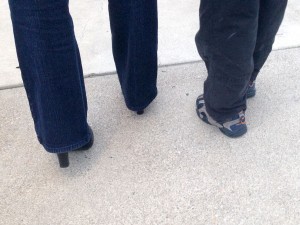 today, mommy had a lunch meeting, so she was sort of dressed up (not wearing yoga pants) and wearing funny shoes.  and her meeting schedule worked out so that she could walk me to my K1 classroom instead of dropping me off at kids' country.  so mommy walked me to school, up the hill, wearing those funny shoes.
me:  mommy, why are you wearing funny shoes like that?

mommy:  like what?

me:  <pointing to her shoes> like that!  they're high in the back and they make you walk on your tip toes <walking on my tip toes to demonstrate>.


mommy:  you don't like that?


me:  they make you bigger.


mommy:  yes, they make me look taller.  cool, huh?


me:  no, i don't want you to be taller.  i like you just the way you are.
Leave a Reply