Posted by
kyden
on
Saturday Jan 31, 2015
Under
sienna
yesterday, mommy had a parent-teacher conference with… well, sienna's teacher. mommy expected to hear that sienna is developmentally on track but that she is a mean girl. mommy knows that i am super smart, so she makes a conscious effort not to push sienna to be a smarty pants like me. well, guess what. it turns out that sienna is ahead of her peers academically, confident, and actually participates a little too much in classroom discussion. like, if the teacher asks a question, and nobody but sienna knows the answer, sienna will sometimes blurt out the answer before the teacher can help the rest of the class get there. so i guess sienna is a smarty pants. and guess what else her teacher said. sienna isn't a mean girl.  she definitely stands up for herself, but doesn't usually start trouble. whoa.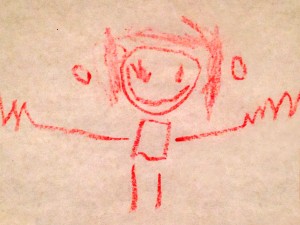 anyway, one of the things that came up in the conference is that sienna's class, as a whole, doodles/scribbles a lot but doesn't really draw objects or people.  and after mommy thought about it, she had never seen sienna draw a person.  so today, she asked sienna to draw a picture of herself.
<– this is sienna's self-portrait at age ~3.5 years.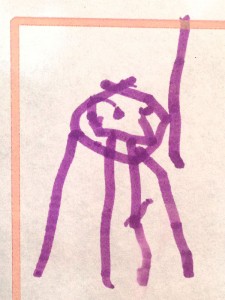 for comparison's sake, this is my self-portrait at age ~3.5 years. –>
i don't think i started drawing people with a body, hair, ears, and fingers until i was almost 5 years old.  i'm not sure if sienna is amazingly artistic or i am just… more into abstract art.
in any case, you know how child psychologists analyze kids' drawings to get some insight into their self-perception?  i wonder what they would say about us.  mommy and auntie cheryl determined that sienna sees herself as dhalsim (with super long arms) juggling her own ears, while i see myself as a snorkeling spider.  auntie cindy pointed out that both sienna and i have smiles on our faces, which  means that we are happy.
Leave a Reply