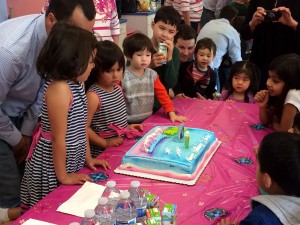 greyson had a bowling birthday bash today.  sienna and i were both planning to go, but it turned out that silvia was celebrating her birthday today as well. if it was anyone else, sienna would have skipped the party, and bowled with the boys.  but silvia is sienna's BFF. so we split up.
mommy took sienna to silvia's party at studio grow. that's the place where cousin zoey had her 2nd birthday party.  but that was when sienna was still in mommy's tummy, so today was her first time really getting to play there.  all the kids at the party were from school, so sienna knew everyone there.  but for some reason she acted shy and wanted to cling to mommy all morning.  at least she had fun riding the mini roller coaster with her BFF, birthday girl silvia.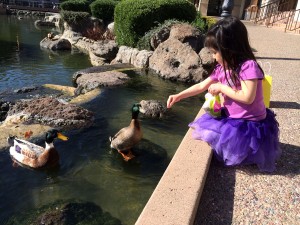 one of the items in the goody bag that silvia gave to all her friends was a bag of bird seed.  so after the party, sienna stopped at the pond right outside studio grow to feed the ducks.  there were only two ducks in the pond, so mommy insisted that sienna only give them a little bit of food.  she didn't want them to eat too much and get tummy aches.  sienna understood.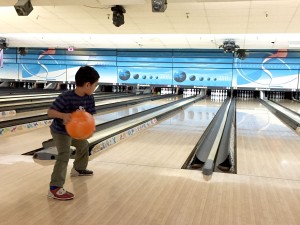 but when all the other kids saw sienna, they wanted to join in on the duck-feeding.  and sienna didn't want to be left over, so she continued to feed the ducks.  i'm pretty sure that those two ducks ate waaay more than they should have today.  i hope their tummies are okay.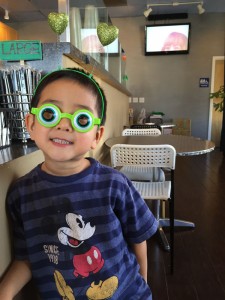 meanwhile, i was bowling with the boys at greyson's slugterra wipeout party.  bowling, i get.  i love bowling!  that part was really fun.  i didn't really get the slugterra wipeout theme, though.  apparently, those are greyson's favorite TV shows.  slugterra is a TV show targeted toward older kids, so i never heard of it.  i guess it's about slugs.
the goody bags that greyson gave us contained, among other things, glasses and headbands that would turn us into slugs.  we are supposed to take a photo of our slug-selves and send them to greyson's mommy.  in a week or so, greyson is going to pick a winner.  what do you think — do i look like a scary slug?  i hope daddy remembers to send mine to auntie char so i can win a prize!
happy birthday to silvia and greyson!
Leave a Reply