sienna and i love movie night.  our dojo hosts a movie night about once every 3 months, and mommy and daddy often take advantage of the opportunity to go out for a date night.  i have always brought sienna with me (because what's the point of getting me out of the house for the night if mommy and daddy still have to stay home with sienna?) but this was the first time sienna attended as an actual student.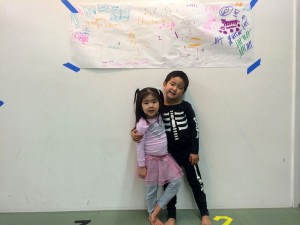 as always, the night consisted of fun group games, pizza dinner, snacks, and a surprise movie.  and as always, mommy packed healthy snacks for us and asked us to eat those first, and to eat just one or two of the chips and gummy candies that would be given to us.  we promised.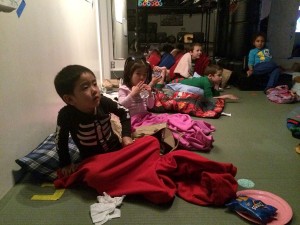 well, mommy and daddy went off and enjoyed a nice dinner in walnut creek.  when they came back to pick us up, the movie was still playing.  it was "peter pan".   mommy laid down next to us and watched the ending of the movie with us.
after the movie ended, mommy helped clean up the mess we made.  she gathered up my unopened bag of doritos and unopened bag of gummy candy, but sienna's were conspicuously missing.  when mommy asked her about it, sienna said that she gave them back to miss kailee (one of the instructors).  as mommy pressed her about it, sienna's story kept changing.  mommy suspected that something fishy was going on, but to give sienna the benefit of the doubt, mommy asked the instructor about it.  miss kailee revealed that sienna ate ate the entire bag of chips and the entire package of gummy candy.  BUSTED!  not only did sienna break her promise to mommy, but she also lied about it.  that might have been the last movie night that sienna will ever get to go to.
Leave a Reply