Posted by
kyden
on
Wednesday Jan 21, 2015
Under
sienna
sienna is 3 1/2.  she took advantage of this special occasion to have a photo shoot in her favorite dress (and also got a free sundae from red robin out of it).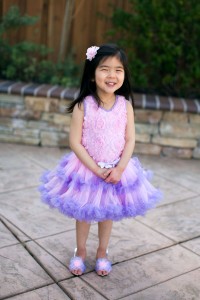 here's what she's been up to.
daily schedule:
7:30am: daddy wakes her up.  she gets herself dressed in some crazy outfit with accessories that often do not match.
8:00am: breakfast.
8:30am: daddy takes her to school on his way to BART
12:00pm: lunch at school
1:30pm: nap.  the rest of her classmates fall asleep between 12:45 and 1:00pm, but sienna is always the last to fall asleep.
4:45pm: we pick sienna up for our evening activities
6:45pm: dinner.
8:15pm: get ready for bed.
9:00pm: mommy and daddy usually take turns putting sienna and me to bed.
9:15pm: lights out.
things she's good at:
drawing and writing.  she's always had really good fine motor control.  she's no leonardo da vinci, but her drawings are much more detailed and realistic than mine were at her age.  she is getting good at writing her letters and can almost write her name.  she usually writes the S rotated at a 90 degree angle and she usually writes the E with ~7 horizontal bars instead of just 3, but that's not bad for a 3 year old!maybe it's a girl thing.
counting.  she finally stopped skipping the number 16 when she counts to 20!
running.  sienna and i agree that she is good at running.  mommy doesn't understand (or agree with) this assessment, but this is my blog, so i'm going with it.
things she's working on:
karate.  she just started taking classes at my dojo.  she's still in the trial period and i'm not sure if she's going to continue.  she doesn't always stay focused during standing attention or sitting attention.
asking permission.  sienna often takes/grabs things without asking.  it's not nice.  it's also very dangerous because she sometimes sneaks junk food, and she doesn't know how to read labels to see if they have peanuts (which she is very allergic to) in them.
flossing her teeth.  she still needs help flossing.  her silver tooth is evidence of that.
favorite indoor activities:
jumping on trampolines
making special drawings for mommy
doing puzzles
favorite outdoor activities:
running around
finding bugs to look at
drawing with sidewalk chalk
favorite book:  little red riding hood
favorite TV show:  paw patrol
favorite song:  shake it off, best day of my life
favorite mobile app:  leo's pad.  it's a series of interactive learning stories.
favorite foods:  pizza
favorite character:  little mermaid
favorite animal:  doggies and cats
favorite school subject:  sharing (on fridays, we bring a toy to school to show and share with our friends)
favorite color:  pink and purple
what i want to be when i grow up:  princess
Leave a Reply