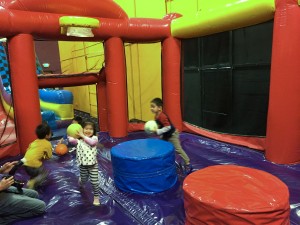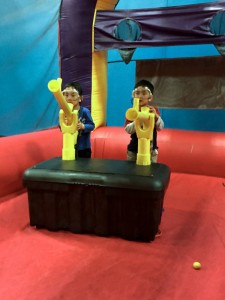 mason has his birthday party at the all new pump in up in santa clara.  that place is awesome.  we had so much fun!
sienna and i have been to pump it up a bunch of times, and they're all kind of the same.  but not this one!  at this pump it up there were lots of inflatable activities that we'd never seen before.
sienna liked playing dodge ball inside the obstacle course, and of course, she loved the giant slides.  my favorite was the bazooka war — logan and i totally took edison and greyson!  i also liked the batting cages.  the balls were easy to hit because they were just floating in the air. 🙂
when it was time for cake, daddy said sienna could have one bite of his cupcake.  with that one bite, she ate almost the entire cupcake (along with daddy's finger)!
daddy said it wasn't funny, but everyone else was laughing, so i guess they disagreed.
happy birthday mason!  thanks for the fun party.  i'm totally having my next birthday party at the new pump it up!
Leave a Reply