Posted by
kyden
on
Thursday Jan 8, 2015
Under
sienna
remember sienna's cavity?  she went back to the dentist today to get it filled.  she went off with a dental assistant while mommy waited in the exam room.  mommy was worried that sienna would be a little freaked out, but she was totally fine.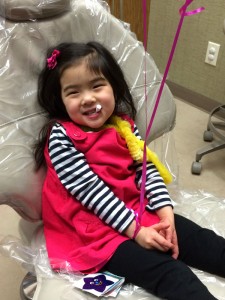 after about 20 minutes, auntie margaret came out to talk to mommy.  it turned out that sienna's cavity went all the way down to the root, so what was supposed to be a simple filling ended up turning into a baby root canal.  yikes!
mommy wasn't worried, though.  she knew that sienna was in good hands with auntie margaret.  after about an hour, auntie margaret came out to get mommy and brought her back to see sienna.  everyone marveled at how brave sienna was and couldn't stop talking about how great she did, especially for a 3yo.  i can't believe that she actually sat still for that long!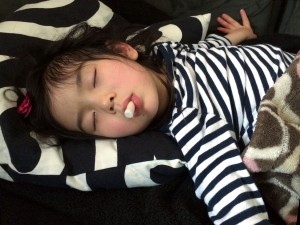 after the procedure, sienna's teeth were still "sleeping" so auntie margaret gave her a "tooth pillow".  sienna was really good about using the tooth pillow and even napped with it this afternoon.
so now, sienna has a silver tooth.  she loves it.  of course she does — it's shiny.  she shows it off to everyone that she sees.  and now, unfortunately, the thought of getting another cavity does not bother sienna at all.  it doesn't motivate her to brush/floss better nor does it deter her from wanting to eat sugary foods.  "what's the worst that could happen?  another silver tooth?  yes, please."  ugh.  next time (if there is a next time), we should tell auntie margaret to make the experience a little less pleasant. 😛
Leave a Reply