both sienna's and my school were closed for winter break (the week between christmas and new year's).  that's a whole week of no school!  mommy always takes that week off of work, so we get to go do fun things.  two of the funnest things we did were watching "walking with dinosaurs" and rockin' and jumping at rockin' jump.  and auntie barbara was in town and we got to hang out with her, so that made it extra fun.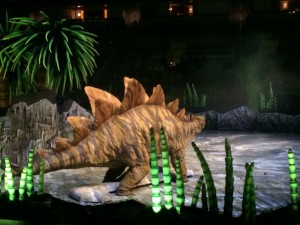 on sunday, we went to the shark tank, but there was no hockey and no sharks.  there were dinosaurs.  we got a big group together (including gung-gung, grandma and grandpa, uncle randy, auntie barbara, and even matthew and his family) to see "walking with dinosaurs"!  the dinosaurs looked so real that i thought they might eat me.  they didn't.  it was a pretty cool seeing all those big dinosaurs, but sienna i will probably get more out of it in a few years.  mommy thinks that kiara (uncle henry's dog) must be part dinosaur because she has the same brindle coloring as the stegosaurus that was in the show.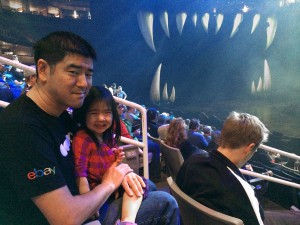 after the show, we all went out to eat at vung tau.  that's the place that we seem to always end up at when we go to downtown san jose with matthew.  they have noodles and a parking lot, so you can't really go wrong there.  and after that, some of us went out to get pearl tea.  (daddy and auntie audrey love their pearl tea.  mommy and uncle alan are more coffee drinkers.)
today, we wanted to go on a super fun trip with mommy and auntie barbara.  we actually planned to do an overnight ski trip to tahoe, but the below-freezing weather forecast killed that idea.  so we thought we'd head east into strawberry and go sledding for the day, but the snowpark's facebook page reported icy conditions AND sell-out crowds.  apparently, our idea was not an original one.  so instead, we slept in, had a lazy morning, and headed over to rockin' jump.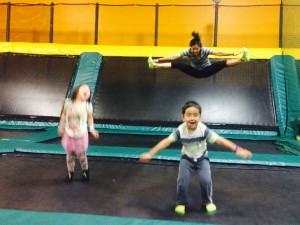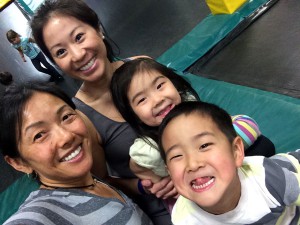 what started out as a lazy day turned into a very active afternoon.  rockin' jump is SO FUN.  the place was packed, but we avoided being trampled by big kid (and grown up) trampoliners by staying in the toddler area.  auntie barbara taught us how to do toe touches!
we also played basketball (i still can't dunk, not even with the help of a trampoline) and jumped into the foam pit.  there was also a dodge ball arena and a joust pit. we had no interest in dodge ball, but sienna and i waited in line to joust to our deaths (or until one of us fell off the balance beam into the foam pit). we were turned away because we are too little. 🙁 even still, we all had so much fun that we can't wait to go back.
winter break is awesome!
Leave a Reply