at back-to-school night (which was on the first day of school), mommy learned that my class would have two holiday celebrations this year — halloween and valentine's day.  no christmas party.  but that doesn't mean that we didn't acknowledge the holidays.
yesterday we did a friendship wreath activity.  i had no idea what to expect — all i knew was that mommy made 3 dozen sugar cookies in the shape of gingerbread men.  would all of those cookie people hold hands in a giant circle?  would each cookie be a "leaf" that we'd glue together into a wreath?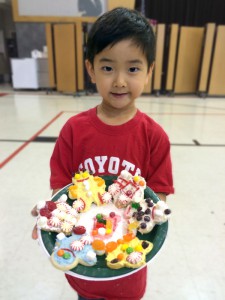 well, it turns out that other mommies made cookies too (in the shape of gingerbread men and stars) and other parents apparently bought out the candy aisle at safeway.  when we walked into the multi-purpose room, there was a green ring (cut out of a paper plate) and 6 cookies for everybody.  there were also tubs of colored frosting and piles of twizzlers, peppermints, skittles, marshmallows, and other candies scattered all over the table.  we decorated our cookies and then used frosting to glue those cookies to our green plates.  and voila — our friendship wreaths were done.
our teacher said that we could eat our friendship wreaths when we got home.  but actually, i had planned to give 5 of the cookies to daddy and only save one for myself.  mommy vetoed that idea.  she said that too many dirty hands had been all over the cookies and the candy. so i guess my friendship wreath will just be a decoration.
today, we invited our parents to our classroom and put on a winter holiday performance for them.  we sang a lot of songs.  probably about 10 or so.  we sang songs about christmas, kwaanza, hannukah, diwali, and some that were just about winter.
mommy didn't have enough memory on her phone to record all the songs (and i wouldn't post all of them even if she did), but here are a couple of them.
this one is my favorite of all the songs we performed: "must be santa"
this one is mommy's favorite: "listen to the water"
happy winter holiday to everyone, no matter what you celebrate!
Leave a Reply