Posted by
kyden
on
Thursday Dec 4, 2014
Under
sienna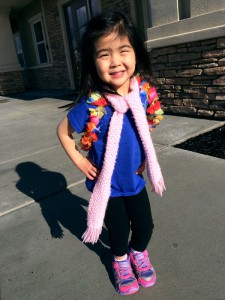 sienna has always had a unique sense of style.  remember this mismatched outfit?  or when she wore these stripes and stripes and stripes?  or when she accessorized her outfit with my safety goggles?  there are plenty of others just as "unique" as those that did not get documented.
well, how 'bout this one?  the flower lei shrug.  sienna actually called it a "flower backpack".  she wore it all day, including during nap time.
i dunno if this fashion trend will catch on, but if it does, i hope they make them in green.  that's my favorite color these days.
Leave a Reply