for our first few days on oahu, we stayed at the hilton hawaiian village in honolulu.  it was a nice room, but sienna and i thought it was small.  i guess we were expecting a big house or 2-BR villa like the places that we've stayed at during other hawaii vacations.
after a few days in honolulu, we checked in at disney's aulani resort where we met up with matthew and jeffrey.  it was UH-MAY-ZING.
since i was missing 6 days of school, mommy and i had to sign an independent study contract.  that means that i had to do homework every day.  a boatload of it.  i had to practice writing upper and lower case letters and numbers, draw and caption a detailed picture of what i did each day, draw 16 pictures that started with the letters A, B, C, D, create simple patterns using objects that i saw each day, identify items in groups of 1-12, find things that start with each of the letters of my name, read for 15 minutes and and re-tell the stories, and do jumping jacks and sprints.  and that's on top of my regular homework sheets.  TK is intense.
anyway, here's a recap of what we did each day.  (if you want to skip the words and just go straight to the photos, click here.  mommy and daddy took some of the photos, but most of them were taken by the aulani photogs.)
FRIDAY (11/14):  arrived on oahu.  walked around honolulu.  dinner at 678 hawaii.  shopping at walmart to stock up on homework supplies.  pearl tea at tea boss for daddy.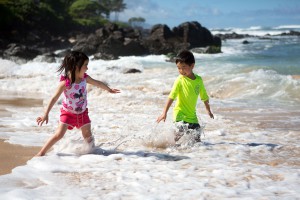 SATURDAY (11/15):  headed to northshore.  breakfast at kono's.  played at laniakea beach (since there was a surf competition at haleiwa ali'i beach park).  visited the dole plantation.  picked up food at yama's fish market.  swam at the hotel pool.  watched "wreck it ralph" at movie night on the lawn.  toward the end of the movie, i stood up and said "i'm hungry".  so we went and had a late night snack at CJ's NY style deli.
SUNDAY (11/16):  malasadas at leonard's.  we looove malasadas.  they are deeelicious!  coffee break at glazer's.  lunch at sushi king.  pure aloha shave ice.  aloha stadium swap meet.  checked into the aulani.  dinner at aloha salad.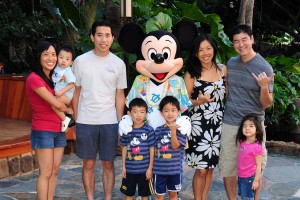 MONDAY (11/17): character breakfast.  fish are friends (we made fish food and fed it to the fish in the rainbow reef).  eruption disruption (science experiment simluating a volcano eruption).  dinner at monkey pod.  starlit hui (luau without food).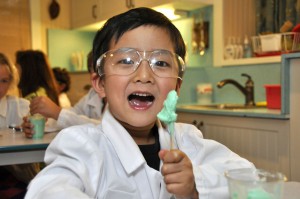 TUESDAY (11/18):  water slides.  water slides.  water slides.  hula lessons, stich's goo (science experiement where we made goo).  dinner at plantation tavern.
WEDNESDAY (11/19):  scuba diving with hawaii nautical with for mommy and daddy.  eruption disruption.  menehune mix up (interactive music show).  surf's up with chip and dale (we decorated mini wooden surfboards and had a dance party with chip and dale).  grown ups had a fancy dinner at ama ama.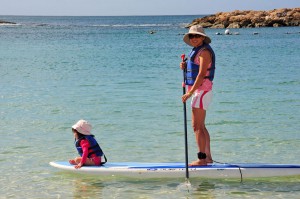 THURSDAY (11/20):  toddler splash and play (built sand castles and dug for treasure in the sand).  kayaking, paddle boarding, swimming.  canoe race (decorated and raced mini canoes).  menehune adventure trail (ipad-led scavenger hunt through the resort).
FRIDAY (11/21):  lunch at teddy's bigger burgers and yama's fish market (again).  on our flight home, daddy and i sat separately from mommy and sienna.
oahu highlights:
the food.  OMG the food.  our faves: leonard's malasadas (honolulu), yama's fish market (honolulu), shave ice at uncle clay's house of pure aloha (honolulu), monkeypod (kapolei), thai lao (kapolei).
perfect weather.  warm, nice breeze, and it wasn't even humid.
pressing the elevator buttons in the hotels
aunty's beach house.  this is the kids' activity center where we did so many cool things.  my favorites were stitch's space goo (stitch said that the goo we made were his boogers) and surf's up.
performing in the starlit hui.  sienna accidentally stole some coconut shell "instruments".
swimming (for me), water slides (for sienna).  sienna especially loved the tube slide that was super dark and fast.  i was too scared to try it, but she went over and over and over again!
wreck dive, including plenty of giant turtles (for mommy and daddy)
paddle boarding and kayaking (for mommy and sienna).  sienna got to stand up on the board and hold her own paddle on the kayak!
menehune adventure trail.  the magic of the menehune lives on!
hanging out with the lims all week.  matthew and i were BFF's and did everything together, which was especially awesome because sienna and jeffrey still nap every day.
oahu lowlights:
homework
homework
homework
no shiny yellow race car.  it would only fit 2 people.
no turtles.  we even went to the northshore beach nicknamed "turtle beach".  false advertising.
our only complaint about the aulani is that the food is just meh, and the food in the shopping center across the street is only slightly better.  good thing we had cars so that we could go into town to find good food!
our plan has always been to visit a different island every time we go to hawaii.  next on our list is the big island.  but we had such an amazing time at the aulani that we just might keep going back there until sienna and i get tired of it.  it think we're good for at least another 4 years.  who's in for aulani 2016? 🙂
Leave a Reply