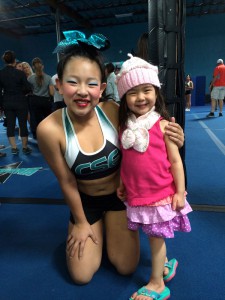 it seems like we have a lot of friends celebrating their first birthdays this year.  in just the last couple of months, baby isabelle, baby jeffrey, and baby lucas turned one.  and today, we went to baby keira's birthday party.  daddy and i went first because mommy and sienna were at cousin caitlyn's cheer showcase.  sienna was so excited to see all those girls with sparkly uniforms flip, tumble, and fly through the air.  she says that she can't wait to "do that".   i guess she really couldn't wait because she did a forward roll onto the mat in between performances.  mommy is really hoping that sienna doesn't get into competitive cheer because mommy cannot hang with the perfect hair, makeup, and nails that those cheers moms have, even when they're wearing yoga pants and team t-shirts.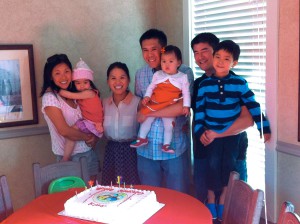 anyway, we've found that first birthday parties are often more for the grown ups than for the kid.  that's especially true when the birthday baby doesn't have older siblings that need to be entertained.  and since keira's party was at the clubhouse of her apartment complex, we sort of figured that her party was going to be more of a grown up party than a kid party.  and it was.  but after everyone ate, keira's auntie brought out a bunch of modeling clay.  what a nice surprise for me and sienna and all the other kids!  we all channeled our inner sculptors.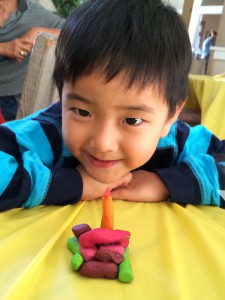 look what i made.  what do you think it looks like?  i was a little insulted that mommy thought it was a turkey.  obviously, it's a cake with a birthday candle on top.  one candle, because keira is one!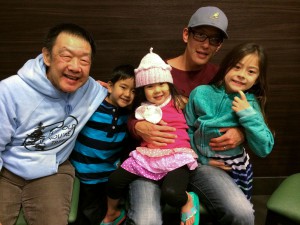 after keira's party, sienna took a quick nap, and then we were off to another milestone birthday celebration.  uncle jamie is 40!  that is SO OLD.  we went out for hot pot at little sheep.  we love that place, but mostly we love hanging out with cousin zoey.
hugs to keira for turning the big ONE, and a big FOUR-O fist bump to uncle jamie!
Leave a Reply