Posted by
kyden
on
Friday Oct 3, 2014
Under
sienna
sienna was supposed to come with me to my check up yesterday to get her flu vaccine.  but when mommy called our doctor's office, they told her they were all out of flu mist, so mommy canceled sienna's appointment.  it used to be that kids with egg allergies weren't supposed to receive flu shots, but some more progressive doctors have recently started allowing it.  and since sienna got the flu mist last year (and didn't have a reaction to it), mommy thought it was best to stick with that for this year.
so when i went in for my appointment yesterday, i was prepared for the needle.  but luckily for me, my doctor got a new shipment of flu mist right before my appointment, so of course i chose that option instead.  and then mommy scheduled sienna to get hers today.
because of sienna's allergies and other health conditions, she's been poked, prodded, photographed, and tested so many times.  she now dreads going to the doctor for "tests".  but mommy promised her that today's appointment would be quick.  all she would have to do is "smell" some medicine.  no shots.  not even a check up.  i confirmed what mommy said.
mommy knew she wasn't going to have much time this morning, so she pre-registered sienna and confirmed that the appointment would be a quick in-and-out — 15 minutes tops.  well, that didn't happen.  because of sienna's egg allergy (and also because gung-gung, who lives with us, take a daily dose of prednisone), the nurse who was going to administer the flu mist had to ask mommy a bunch of questions as a follow up to the form that she had filled out.  and then she had to go consult with a PA.  and then the PA went in and asked mommy some more questions.  and then the PA had to go consult with a physician.  and then the physician went in and talked to mommy and sienna for a bit.  he wasn't our regular doctor — she wasn't there that day.  apparently, some doctors will administer the flu shot to people with egg allergies, but flu mist hasn't been studied enough, yet.  so even though sienna had the flu mist last year, this doctor was not comfortable giving it to sienna.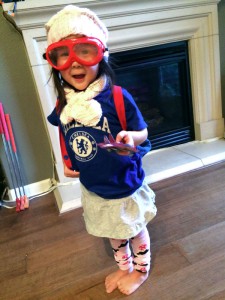 so, the options were to give sienna the flu shot, or to come back another day to see if our regular doctor would let sienna have the flu mist (again).  since mommy had promised sienna that there would be no needles today, they opted to reschedule.  but while walking down the hallway toward the exit, sienna changed her mind.  she agreed to have the flu shot, needle and all.  so back into the exam room they went.
as an extra precaution (due to her egg allergy), the nurse took sienna's vitals.  then came the needle.  mommy tried to distract sienna with her iphone, but sienna insisted on watching as the needle entered her leg.  she shed a few tears, but was all smiles a minute later.  we are so proud of her for being so brave.
in case of an adverse reaction, sienna was not allowed to leave the doctor's office for 30 minutes.  mommy tried to sneak out a couple of times, but the nurse had set a timer.  and that how sienna's "15 minute in-and-out appointment" turned into a 75 minute ordeal.
here's a photo of sienna from today, wearing an outfit that she put together by herself.  temporary insanity must be one of the side-effects of the flu vaccine.
Leave a Reply