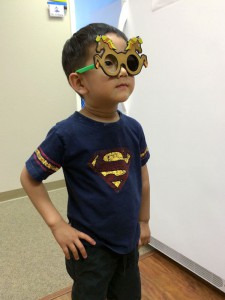 i had my 5 year check up today.  it was a short appointment because i was there less than 4 months ago to get some shots and a hearing test to get all my medical forms filled out for school.
today, i measured 41.5 inches (22 %ile) and weighed in at 37.5 pounds (26 %ile).  the nurse gave me an eye exam, which was kind of fun because i got to wear these really cool horse glasses.  i passed.  20/20.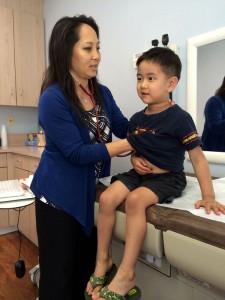 my doctor gave me a quick check up and then asked me some questions.  what kind of exercise/activities do i do?  do i always wear a helmet when i ride my bike?  what i would do if a stranger asked me to help him find his puppy?  stuff like that.  easy questions.
then it was time for my flu shot.  but instead of getting a shot, i got a special flu vaccine that i just had to smell (flu mist).  no needles!
this was my easiest check up ever.  the only bummer is that my doctor predicts that i'm only going to be 5'8″.  that's okay i guess, but i have been really looking forward to being the tallest person in the whole family when i grow up.  if i'm only 5'8″, i'm not sure that i'll be taller than daddy.  he says he's 5'8″, but that might only be on his good hair days.
Leave a Reply