Posted by
kyden
on
Wednesday May 15, 2013
Under
sienna
sienna doesn't go to school yet.  mommy says that school is for big kids, like me.  sienna is still a baby.  she won't start school until she turns 2.  (i have a whole separate post on that coming soon.)
since miss denise lives near our old house — not near our new house — she can't come take care of sienna during the day any more.  so while i'm at school during the day, sienna hangs out at home with mommy and gung-gung.  a few times, gung-gung has gotten sienna dressed in the morning, and he has put her in some crazy outfits.  like the time he changed her out of her pajamas… into a set of oversized (size 4T) pajamas.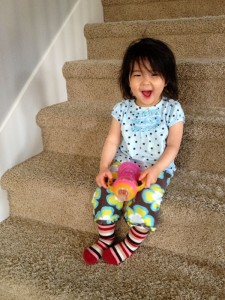 today, mommy picked out sienna's outfit.  she put sienna's flower print pants on her, but sienna insisted on wearing a polka dotted top instead of the one that mommy selected.  daddy worked from home today, so when everyone decided to go out to lunch together, daddy picked out some socks for sienna to wear.  he managed to find socks with stripes in every color except for the ones in the rest of her outfit.  so this is the avante garde look that sienna rocked today.  in public.  and nobody even bothered to comb her hair.  i think that's bordering on child abuse.
they all went to denica's real food kitchen for lunch.  mommy and sienna have been there 3 times already.  they love it.  mommy loves the food, and sienna loves the kids' play area.  the place is always packed — even on the weekdays.  (it sure seems like there are lot of people who don't work around here.)  on the weekends, we've heard that there is usually a one hour wait.
daddy liked the ginormous cinnamon rolls that mommy has brought home for him from denica's bakery, so today was a good opportunity for him to try the restaurant food (since we are definitely not going to go on a weekend to fight the crowds).  he thought his lunch was just eh.  i think that because mommy likes the food, daddy assumed that it would be too healthy for him, so he never really gave it a fair chance.  and me?  well, i have no idea.  nobody has ever taken ME to denica's to eat the almond joy pancakes (or any of the other desserts disguised as breakfast) or to play with the cars that roll down the ramp.   no fair.
can someone please take me to denica's some time?
Leave a Reply