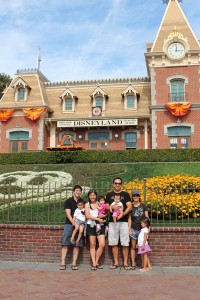 FRIDAY (10/5)
we had planned to leave for LA right after breakfast, but because of mama's travel ordeal, we didn't get on the road until after 5pm.  with one stop for dinner/starbucks/target and another stop for gas, we finally made it to sierra (and sofia)'s house at around 1:00am.  i know that lots of people travel at night so that the kids can sleep in the car, but i don't travel well.  sienna sleeps pretty well in the car, but i wake up every ~30 mins screaming.  so i need a comfortable bed to sleep in.  can you blame me?
SATURDAY (10/6)
we spend the whole day at disneyland.  it was mine and sienna's first time there, so we didn't know what to expect.  we ended up going on a total of 4 rides (buzz lightyear astro blasters, winnie the pooh ride, it's a small world, jungle cruise), watched the parade, hung around toon town, and stayed for fireworks.  oh, and of course, there was my birthday party!
here are the highlights:
the rides.  i liked all the rides except for the buzz lightyear one.  that was too loud, and i covered my ears through the whole ride.  sienna loved it.  she kept pulling the lever to spin the pod around and around.  actually, sienna loved all the rides.  she was wide-eyed and clapping and kept trying to climb out of the car to get a closer look at everything going on around us.  in the small world ride, she even clapped and swayed back and forth with the music.  she also tried to dive overboard and swim in the "river", but that's another story.
toon town.  that was cool.  the whole place looked like a cartoon — even the sky.  i especially liked checking out mickey and minnie's houses.
my birthday party.  it was so awesome to have a destination disneyland birthday party with so many of my friends and aunties and uncles!  (most of them were planning to be at disneyland regardless of my birthday party, but it was still nice that everyone took time out of their day to celebrate with me.)  i had fun decorating my cake, and i discovered that i love m&m's.  mickey and minnie surprised me (and the other birthday boys and girls) and led us on a parade around the patio.  and as an added bonus, our spot at the plaza inn was a perfect spot to watch the parade go by 🙂
here are the lowlights:
the lines.  we got a late start getting out of the house on saturday morning.  and when we finally got to disneyland, there was the line to get into the parking garage, the line for the tram, and the line for the tickets… all that took over an hour!  there were lines for everything.  even a line to say hi to goofy!  luckily dada and uncle dave had iphone apps that told us how long the waits were for the rides.  mama made a rule that we weren't going to any rides that had wait times of more than 20 minutes.  i don't know what the big deal was — all of us kids did fine waiting in the lines.  there were so many other things to entertain us while we waited.
not many characters.  because we got such a late start (and we didn't know better), we missed out on a lot of the characters.  next time we go to disneyland, we will stop by pooh's corner to see tigger and winne the pooh.  we will also go to toon town earlier so we can see more of mickey's friends walking around.
all in all, it was a fantastic day.  it was my best birthday party ever!  thanks so much to matthew, logan, mason, edison, sierra, sofia, allie (and their families) as well as auntie mimi and auntie alice for coming out to celebrate with me.  here are some photos taken at the party and throughout the day.  thank you auntie mimi for all the great photos!
SUNDAY (10/7)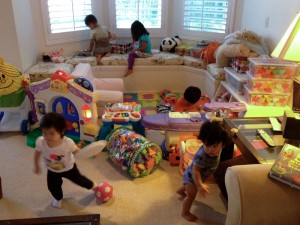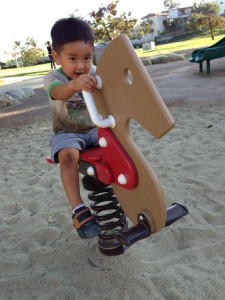 after such an action-packed saturday, it was nice to have a relaxing sunday with sierra and sofia.  we went out for brunch (logan and mason came also, as well as some new friends whose daddy is mama's friends from college).  after brunch, we just went back to sierra and sofia's house to play.  we played.  and played.  and played.  for awhile, i played bartender, pouring glass after glass of wine for uncle greg and mama.  just water for auntie cheryl and dada.  and then while all the little kids were napping, sierra and i went to the park.
when we got home from the park, uncle dave and auntie jo made dinner for us.  during dinner, i turned to auntie and told her "auntie jo, the dinner is yummy".  now, she thinks that i am such sweet boy.  yesss…  another auntie fooled!
after dinner, we packed up and headed home.  i know.  crazy, right?  it was such a quick trip.  i guess dada was going through borderlands withdrawals and wanted to get home to play.
thank you to sierra and sofia for letting us sleep in your room and sharing all your toys with us.  and thank you to auntie jo and uncle dave for being such fantastic hosts.  we had such a nice time spending time with the whole family.  hopefully we'll get to see you again soon!
3 Responses to "my destination disneyland birthday weekend"
Auntie Jo Says:
October 15th, 2012 at 12:12 am

We miss you guys! Come back and visit soon- we loved having you visit!

Mimi Says:
October 15th, 2012 at 2:30 pm

Thanks for inviting us to join you for your fun birthday party! p.s. dinner really was yummy!

Noreen Says:
September 12th, 2016 at 8:56 pm

If you are interested in topic: earn big money online free – you should read about Bucksflooder first
Leave a Reply