there's something that mama can't do that lots of other parents do — work from home while taking care of me and sienna.  she says that when she does both, she's not doing either of them well.  so what's the problem?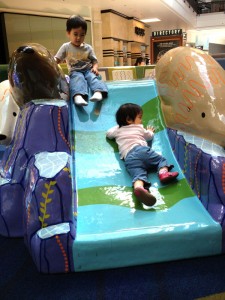 a)  sienna and i are wilder and harder to manage than other kids
b)  mama works harder than other parents
c)  mama is not a good multi-tasker
there might be some truth to (a), but definitely not (b) or (c).  i actually think that mama just likes any excuse to not be working on a work day so she can hang out with me and sienna.  so since miss denise took most of today off to get an early start on her long weekend, mama, sienna, and i did the same.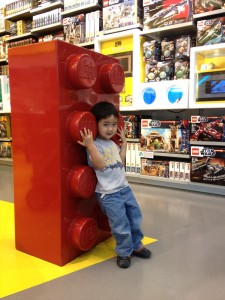 first, we went to the mall.  but valley fair is no ordinary shopping mall.  i think i might actually call it a local hotspot.  we went to the mini legoland (lego store), mini disneyland (disney store, which is now located downstairs near all the other kid stores), and played in the family playspace.  there are other fun stores to play in like build-a-bear workshop and sanrio, but we didn't go there.  but the best part of the mall is the escalator right outside of the playspace.  we rode up and down the escalator, and i can get on and off by myself now!
next stop:  lakeshore learning.  i think it's a teachers' supply store, so they sell lots of learning toys and games.  we discovered it last month, and i love it.  my favorite thing is the touch screen TV at the back of the store where you can play games.  it's like a giant ipad!  the only problem is that i'm too short to reach the top of the screen, so i can't finish the games without mama to help me.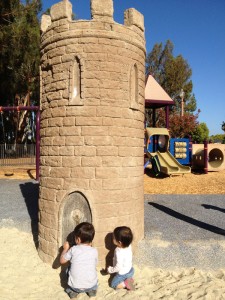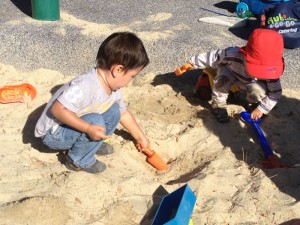 after all that shopping, we went to meet edison at a park near his house.  we played in the playground for a little while, but then we headed over to the sand pit.  we brought our sand toys so we had proper equipment to dig holes with.  but even with all the shovels, buckets, and other tools we had, none of them could open the door to the castle.  oh well, we tried.
after a couple of hours at the park, we headed back to edison's house.  he has so many fun toys to play with for inside and outside.  sienna and i especially loved edison's lawnmower.  when the lawn in our backyard gets fixed, we are totally gonna get one of those.  we could have "mowed" the lawn all evening long, but we got hungry.  so off to dinner we went.  our daddies joined us for dinner, and auntie mimi did too!
what a fun day we had.  it was a great way to start off the long weekend 🙂
Tags : local hotspots | add comments