usually when we go out, it's me and sienna and a bunch of dudes.  but today, matthew and i were outnumbered by the girls 🙂  in addition to sienna, claire and bella spent the day with us.  they're the ones that i went to the zoo with last summer.   remember, it was my first time at the oakland zoo, and all the animals were hiding?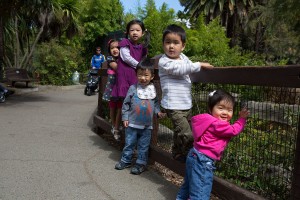 well today, all the animals were out an about.  there was actually a special "feed the beasts" event, and the animals got special treats.  we watched the elephants eat watermelons.  whole.  it was so cool — they curled their trunks around the watermelons and popped them into their mouths like candy.  (mama was very concerned that they were going to choke.)  i also liked the giraffes and the monkeys, but the tiger was my favorite.  the tiger stayed toward the back corner of his habitat just laying on his back with his feet in the air.  he wasn't doing anything interesting, so mama and dada were surprised that i liked him so much.   it was my first time seeing a tiger.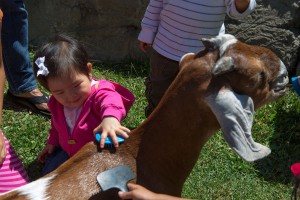 watching all the animals eat made us hungry, so we stopped for a picnic lunch.  after that, we played in the playground for little bit then headed into the petting zoo.  we all petted and brushed the goats — even sienna.  i've been teaching her to brush and pet koda nicely, so she did pretty well.  until she tried to eat the brush.  yuck.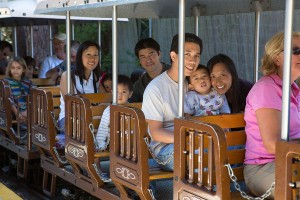 we finished off the afternoon by going on some rides.  we rode the train around the zoo, and then matthew and i drove the cars.  you have to be 36″ to drive, and we barely made the minimum height!  good thing i have tall shoes 😉
we sure have been seeing lots of animals this summer.  since last month, we've been to the sea world, palo alto junior museum & zoo, monterey bay aquarium, safari west, and now the oakland zoo.  to top this next summer, i think we're going to have to go see animals in africa.
Tags : friends, local hotspots | 2 comments