i used to hear mommy joke with dada about having baby sister sleep with her forever.  except i don't think she was joking.  dada didn't think she was joking either.  so about a month ago, dada decided that it was time to set up the co-sleeper.  finally.  baby sister was over 5 months old, so it was about time.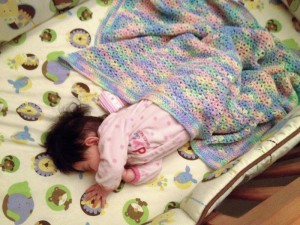 then a couple of days ago, mommy fed baby at 1am just before she went to bed. just like always.  but instead of putting baby in the co-sleeper, mommy but baby to sleep in her crib!  you'd think that mommy would finally get a good night's sleep, right?  wrong.  mommy couldn't sleep.  she knew that she would have to get up every 3 hours to feed baby, and she was worried that she wouldn't hear her when she woke up (even though she was in the next room and the baby monitor was on).  so mommy half-slept while she waited for baby to wake up.  she waited… and waited… and kept waiting.  she barely slept all night because she kept thinking that baby was going to wake up any minute.  but baby sister slept til 7:30am!  well, that's mommy's story.  the rest of us think that mommy just doesn't know how to sleep without a baby right next to her.
the next night, mommy washed both of baby's crib sheets.  and she accidentally forgot to dry them.  yeah, right.  so baby sister had to sleep in the co-sleeper that night.
last night, baby sister was back in her crib.  she was on her way to sleeping through the night, and mommy was facing another whole night by herself.  well, dada was with her, but you know what i mean.  i didn't want mommy to be lonely, so at 4:00am i ran toward her room calling "mama?  mama?".  she happily carried me back to my room and laid down with me in my race car bed.  i just laid there in silence with my eyes wide open.  after 30 minutes, mommy brought me to her room and let me sleep with her and dada.  she said that she was worried that baby was going to wake up, cry, and disturb dada.  but i know the truth — she just wanted to cuddle with me because she was having separation anxiety.
see, mommy told everyone that baby and i were conspiring to keep her from sleeping through the night.  but actually, we are trying to gently wean her away from holding a baby while she sleeps.  we are sleep training mommy 🙂
One Response to "sleep training mommy"
auntie cindy Says:
February 11th, 2012 at 11:37 am

I had the exact same crib experience, with the baby sleeping unusually well, and with me half-sleeping and going paranoid, having auditory hallucinations of the baby crying, panicking and checking the monitor, only to see the baby sleeping well. Okay, maybe that hallucination thing is just a me thing.
Leave a Reply