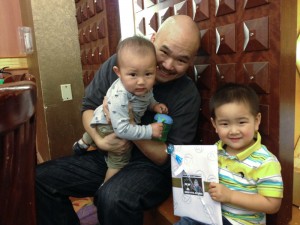 remember my friend greyson?  it seemed like just yesterday that he was a newborn and i was looking for him all over his house, calling "baby?  baby?  baby?".  well guess what.  he is one year old already!  gosh, babies grow up so fast 😛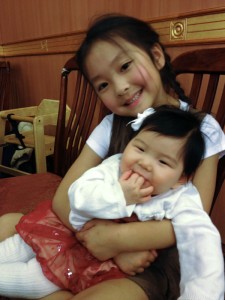 dada was very excited about greyson's birthday party.  i have never seen him so excited to go to one of my friends' parties before.  at first i thought it was because greyson is my half-and-half brother, but then i figured out the real reason — it was a dim sum party!  dada loves dim sum.
this was my first dim sum party, so i didn't know what to expect.  there was assigned seating and a pre-ordered menu.  there were centerpieces on each table, individually wrapped gifts for all the kids, and three (that's right, THREE) cakes — all in the badtz-maru theme.  fancy, huh?  i didn't know who badtz-maru was, but baby sister told me that he's a friend of hello kitty, her bobble-headed cat.
there were mostly grown ups at the party, but some of my friends were there, too.  i was trying to get to know ellie better since i don't get many opportunities to spend time with her, but she was more interested in hanging out with baby sister.  oh well.  i heard that she has a boyfriend anyway.
cool dim sum party, greyson.  hope you had a happy birthday.  and thanks for the cool presents!
One Response to "dim sum done fancy"
Mimi Says:
February 1st, 2012 at 1:04 am

Now that's my kind of party! Gosh that Ellie is adorable – no wonder you have your eye on her!
Leave a Reply