since i was such a good boy yesterday at baby's head scan appointment, mommy said we could go to the zoo (palo alto junior museum & zoo) afterwards. i was so excited that i asked "zoo?" over and over again during the entire drive there.  luckily, the zoo is only a couple of miles away from the head scan place.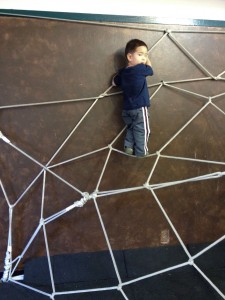 well, we pulled into the parking lot… just as it was closing.  i got all excited about the zoo for nothing!  luckily, there was a nearby park where i got to play on the slides for a little while, but i was still sooo mad.  i asked "zoo" the whole way home.  mommy felt so bad about it that we went all the way back to the zoo today.  yay!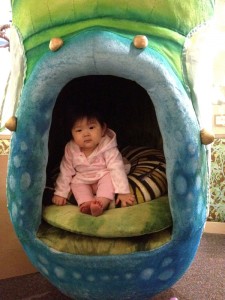 even though all the museum and zoo exhibits were the same as the last time we went there, i still had a blast.  i watched some new animals that i didn't really look at last time — like bats and raccoon and a turtle.  and then we went back inside the museum and i checked out a lot of the creepy crawly insects.  and then i pretended to be a spider and climbed around the web.  how fun.  bugs are cool 🙂
baby sister stayed in the special area designated for babies.  she played with some of the toys in there, but she mostly just rolled around.  while i was pretending to be a spider crawling on the web, baby sister was pretending to be a caterpillar sitting in the cocoon.
Leave a Reply