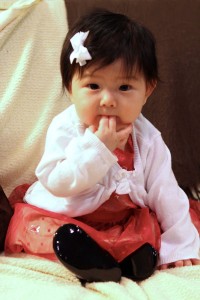 gung hay fat choy!  today is the first day of the lunar new year.  last year, our chinese new year celebration was a quiet dinner that mommy cooked at home.  it was a good dinner, but mommy doesn't cook traditional chinese food.  luckily, auntie mimi invited all of us to join her family's chinese new year dinner at their house.  she said that the dress code was "gold and red".  i wore the one red shirt that i have.  baby sister had plenty of clothing options and a selected a brand new red dress out of her closet.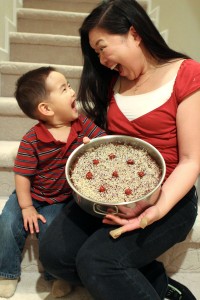 auntie mimi and her parents cooked a feast fit for a king. or maybe an emperor.  make that 100 emperors.  there was chicken, pork, fish, chinese broccoli, mushrooms, sticky rice, nian gao (traditional chinese new year cake) and lots more.  they even cooked jai!  gung-gung kept talking about jai last year, but i had no idea what it was.  now i know.  jai (also called "buddha's delight" or "monk stew") is a very traditional stew that is usually only prepared for chinese new year.  it's made with exotic ingredients like tree ear fungus, ginko nuts, black moss, golden lily buds, and other strange-looking stuff.  mommy ate three servings.  gung-gung was loving it, too.  dada wasn't daring enough to try it.  i ate my share, though, and everyone was so surprised that i would eat such an exotic dish.  dada missed out.  (baby sister missed out too, but only because she doesn't have teeth to chew with).  oh well.  more for me.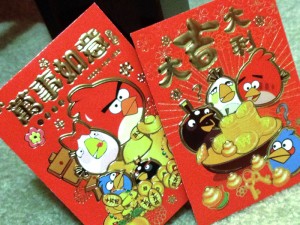 aside from the food, another great thing about a real chinese new year celebration is all the red envelopes.  i thought they were so cool that i kept collecting the ones that were laying around — even the ones that i had previously handed out to other people (from mommy and dada).  i saw one peeking out of auntie mimi's back pocket, so i pick-pocketed her.  she didn't even notice 😉  check out these super-cool red envelopes that baby sister and i got that night.  did you that they come with money inside of them?
thank you auntie mimi (and family) for inviting us over for such a special chinese new year celebration.  gung hay fat choy!
2 Responses to "a real chinese new year celebration"
auntie cindy Says:
January 27th, 2012 at 3:55 pm

Goodness, Angry Birds red envelopes! You have trendy friends!

Mimi Says:
January 27th, 2012 at 8:28 pm

I'm so glad you came and helped us eat to celebrate the year of the dragon … I think we should make it a tradition 🙂
Leave a Reply