i spent all day practicing saying "happy birthday" so i could say it to maddie when i saw her.  tonight was her 3rd birthday party and it was so fun.  here are the top 5 reasons why: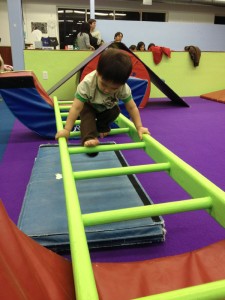 5)  new hotspot.  i got to check out airborne gymnastics, a new place that i had never been to before.  it's a training gym for real gymnasts — like the ones who go the olympics.  (that's what i heard, anyway.)  mommy said that i might get to join maddie's class when i turn 2.5.
4)  circuit training.  to get through the circuit, we had to slide down a slide, swing on a rope, walk a balance beam, swing on the rings, and even hop through a hopscotch!  the best part was at the end when we got to slide into the giant foam pit.  (see video.)  i cheated and did that last part 3 times 🙂  sliding in is SO FUN, but getting out is like crawling out of quicksand.
3)  good friends.  maddie and i have a handful of mutual friends, and it's always fun to hang out with them because i don't see them often.  maddie, ava, zoe, kai, and i, all sat together for dinner after working up a big appetite.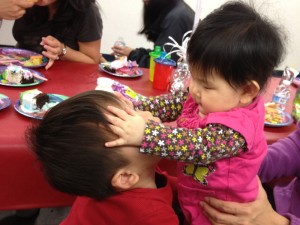 2)  baby sister's friends.  it's nice that she had friends to play with, too.  after all, it is her half birthday.  while i was sitting with my friends at the party table, baby sister hung out with malia (her buddy who is only 12 days younger).  and when i wasn't looking, she started "hanging out" with kai, too.  when i saw them out of the corner of my eye, i got SO UPSET that i ran across the room and put a stop to it.  no joke.  i mean, look at the photo.  wth is that all about???
and the number one reason why maddie's party was so great…
1)  ice cream cake!  'nuf said.  happy birthday maddie!
3 Responses to "airborne fun"
Auntie Barb Says:
January 24th, 2012 at 5:26 pm

what a fun birthday party! Baby sister is learning how to get her flirt on at such a young age! 😉

auntie cindy Says:
January 27th, 2012 at 3:57 pm

Wow Kyden, can I hire you to be Allie's bodyguard?

Logan Says:
January 28th, 2012 at 6:18 pm

Wow! The slide part looks super fun! We should convince Little Gym to set up a slide like that.
Leave a Reply