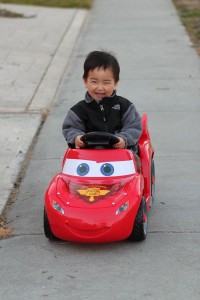 i got wheels!  i mean, i know i've been cruising in my cozy coupe for over a year, but now i have a real live motorized vehicle.  and it's not just any ol' car — it's lightning mcqueen!  i finally took him out for a spin today.
i had never actually driven a car by myself, but like most things in my life, mommy took a sink-or-swim approach to teaching me how to drive.  or in this case, it was more like drive-or-crash.  i only crashed one time!  don't worry, i didn't hit a tree or anything — i just hit mommy.  and the car is just fine. whew.
mommy thinks that i am a bad driver, but i meant to go off-roading.  so what if lightning mcqueen is a race car?  staying on the road is boring.  i feel bad about all the plants and grass that i damaged, but i hope that the fact that i am driving an electric-powered vehicle makes up for it in the karmic balance of the environment.
check out my video.  and yeah yeah, i know that it looks like i'm driving a stick shift, but gimme a break.  it was my first time.  see you on the road!  vroom vroom…
One Response to "vroom vroom…"
Mimi Says:
January 20th, 2012 at 1:35 am

O the chicks will dig you even more now that you've got wheels to pick them up in
Leave a Reply