Posted by
kyden
on
Monday Jan 9, 2012
Under
sienna
we went over logan's house today so we could meet his new little brother.  his name is baby mason, and he's 11 days old.  mommy visited him in the hospital right after he was born, but the rest of us hadn't met him yet.  finally, a tai boy that's smaller than i am!  (logan is 6 months younger than me but probably outweighs me by a few pounds.)
baby mason was sleeping for most of the time that we were there.  babies are boring.  they sleep a lot.  but that's okay 'cuz logan has a ton of cool toys, and i played i with all of them.  i wasn't really paying attention to what everyone else was doing.
but then after dinner, i was showing logan how to play "words" (hanging with friends), and i swear that i saw baby sister stroking logan's hair.  logan didn't even flinch.  mommy asked logan if baby sister was stroking his hair, and he responded "stroking hair?", like he didn't know what she was talking about.  way to play dumb, buddy.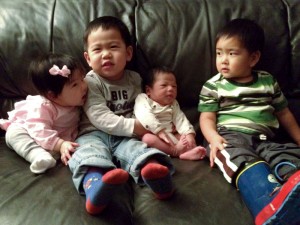 when baby mason finally woke up, we all climbed onto the couch for a photo.  instead of sitting next to me (i'm her brother… hellooo?!), baby sister sat next to logan.  she cuddled up right next to him and put her hand on his knee.  and he didn't move away!
it's pretty obvious to me that baby sister and logan have been secretly dating.  and he didn't even have the courtesy to ask me first!  what happened to bro code?  i always knew that i'd have to deal with my friends hitting on my baby sister, but i didn't realize it would be so soon.
logan, i'm keeping an eye on you, and you better not hurt my baby sister.  i don't care if you're bigger than me!
4 Responses to "baby sister's secret boyfriend"
Leave a Reply