since baby sister was already in palo alto for her ultrasound, we decided to check out the palo alto junior museum and zoo.  a museum and a zoo all in one?  cool!  and no admission fee?  super cool!  we'd been wanting to check out that place for awhile, so we were happy to finally have a chance to go there.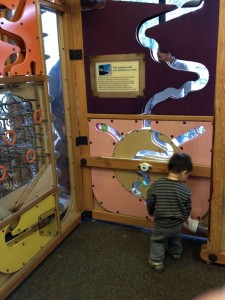 when we arrived, we were pretty disappointed.  the place is SMALL.  we were expecting something like the children's discovery museum in san jose, but the entire place is about the size of the wonder cabinet (the small section of CDM dedicated to toddlers).    mommy figured that we would be in and out of there in half an hour.
inside the junior museum, there were a series of clean green energy machines.  they are supposed to help visitors investigate wind, solar, water, and kid-power — creating connections between the choices we make and our environment.  whatever.  i didn't really understand it.  all i knew was that i got to press buttons, flip switches, turn wheels, and stuff happened.  it was really cool.  mommy and dada were really surprised at how much fun i was having with all those machines.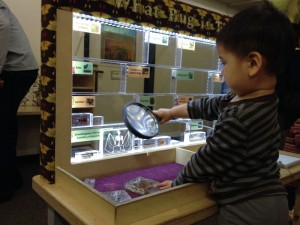 my favorite exhibit in the museum was the bugs.  there were a bunch of different insects in clear blocks.  i put the blocks on the glass shelf and used a magnifying glass to make them really big.  big bugs are awesome.  i kept going back to that exhibit over and over again.  mommy told me not to get any ideas about using magnifying glasses and bugs and sunlight for entertainment.  she says it's a boy thing, but i have no idea what she's talking about… yet.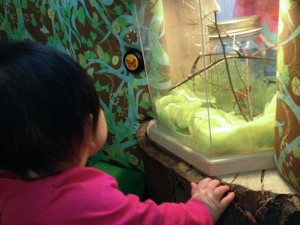 there was also a small area just for babies.  baby sister went inside there for a little while, but got bored quickly.  it was about the size of the closet in mommy and dada's room, and aside from one fake butterfly, there wasn't a whole lot for her to do in there.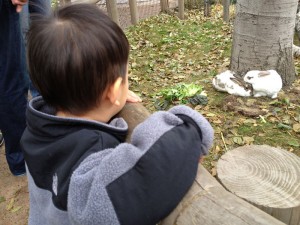 just outside of the museum is a small zoo.  i saw bunny rabbits, a giant goose, a snake, bobcats, rats, and a few other animals.  the bunny rabbits were hilarious.  they were making me laugh because they clean themselves like koda does.  so silly — they aren't dogs!  i don't know why there was a fence around them, but i just climbed over it.  i wanted to pet them like i did with the goats and sheep at other zoos.  mommy wouldn't let me.  my favorite animals were the rats.  i liked watching them run and run and run in the wheel.  i wanted to stay and watch them and give them high fives.  i kept calling them "baby".  mommy thought i was calling them babies because they are small, but actually, there were a bunch of baby rats sleeping in there.
mommy was definitely wrong about being in and out of there in 30 minutes.  even though the museum is small, i had so much fun that we stayed for over 3 hours.  i could have stayed all day, but we had to get home because auntie mimi was coming over to go to christmas in the park with us (see next entry).  and even though the admission was free, i made a donation on our way out.
Leave a Reply