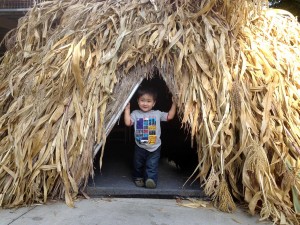 we didn't have anything on our calendar for today, so when logan told us that he was going to gilroy gardens, we decided to meet him there.  i've been there a bunch of times, but i barely recognized it today.  it was all dressed up for "halloween scary boo".
there were witches and skeletons hanging around the sycamore bridge, the kiddie water play area became a haunted hay maze, and the monach garden was turned into a spiders' lair.  plus, kids wearing costumes were allowed to trick-or-treat at the "boo zones".  oh.  now i get why logan was wearing cow pants around the park all day.
just like the last time we went to gilroy gardens, baby sister only got to ride on the train and the merry-go-round.  but unlike last time, i went on lots of rides… and loved 'em all!  i had fun on the scary big kid rides that i used to hate, i and even went on some new rides that i had never dared to try before.  it was fun hanging out with logan, but i can't wait 'til baby sister gets to go on rides with me, too!
PSA to my friends:  gilroy gardens will be dressed up for "halloween scary boo" until the end of the month.  go check it out!
9 Responses to "halloween scary boo"
Leave a Reply