Posted by
kyden
on
Thursday Aug 18, 2011
Under
sienna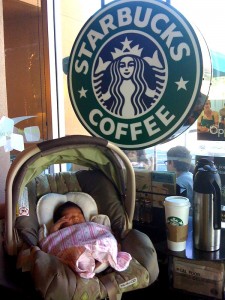 after baby sister was born, dada took three weeks of paternity leave.  i dunno what that means, but he got to stay home from work and hang out with us.  yay! paternity leave is awesome! dada didn't let baby go out much, so she mostly stayed home (or in the hospital) with mama.  once in awhile, mama and i hung out while dada took care of baby.  but on most days, dada and i went out and did fun guy stuff together.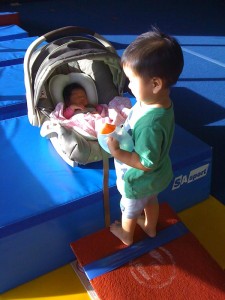 last thursday, dada went back to work.  so for the past week, dada hasn't been home during the daytime.  that has made it pretty easy to help baby sister sneak out of the house.  she has been out to lunches and starbucks runs, and i've even shown her around at some of my regular local hotspots — like the little gym (where i go to gym class) and almaden valley athletic club (where i take swim lessons).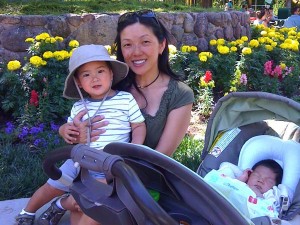 yesterday, baby sister and i went out on our first real outing — gilroy gardens!  the day started out great.  we all went on the train ride together.  after that, i wanted to drive the fire engines and race cars, and even ride on bulgy the flying goldfish, so we waited in all those lines.  i even got in and strapped on the seat belt, but once i realized that baby sister wasn't allowed to ride with me, i changed my mind and got out before the ride started.  so then we decided to go on the rainbow gardens boat ride because we thought that we could all go on that ride together.  but when we got to the front of that line, the operator told mama that baby sister would have to sit in her own seat and wear a seat belt.  mama just looked at him like he was insane.
i felt bad that baby sister barely got to go on any rides.  but mama said that baby had fun strolling around the park, watching me play in the water attractions, and just hanging out with me all day long.  how nice.  my baby sister is pretty awesome.
2 Responses to "out on the town with baby sister"
Logan Says:
August 18th, 2011 at 2:50 pm

Dude. Give me a call next time you want to take a spin out to one of the local hotspots. My daddy has vacation to burn.

cindy Says:
August 22nd, 2011 at 11:36 am

you think maybe Sienna paid the rainbow gardens boat ride operator off cuz she wanted her own space, just like you got?
Leave a Reply