remember when i was little, i had a 100 day red egg and ginger party?  i thought i was the only kid in the whole world who would be lucky enough to have a party like that because i'm half-japanese and half-chinese.  (the 100 day celebration is a japanese tradition and the red egg and ginger are chinese traditions.)  but then baby greyson came along!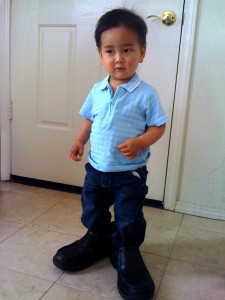 today was baby greyson's 100 day red egg and ginger party.  i knew that it was a special occasion, so i wore a collared shirt, and i even picked out some fancy dress shoes.  unfortunately, daddy wanted to wear the shoes that i picked, so i had to change to different ones.  oh well.  i had a hard time walking in those shoes anyway.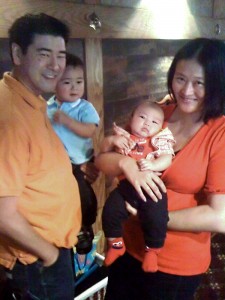 greyson's party was at a teppanyaki restaurant.  it was so fun to watch the chef cook my food right in front of me.  he even made a onion volcano that had fire coming out of it!  mama and daddy said that i've been to a restaurant like that before, but i don't remember it.  i guess my memory is going in my old age.
i had a fun time at greyson's party.  aside from the yummy food, i got to hang out with older twin girls (katie and ellie) and i met a new friend (kaylen).  kaylen kept touching me and hugging me, just like kimora did at logan's birthday party.  i guess younger women just can't keep their hands off of me.  awesome! 😀
happy 100 days to greyson, my half-japanese / half-chinese brother!
4 Responses to "half-and-half"
Leave a Reply