last night, we went to pick up dinner and then headed over to visit auntie char and uncle ed.  when we got to their house, i got two very exciting surprises.  for one thing, we got to eat burritos for dinner.  yum!  at first, mama was sharing her burrito with me, but i kept spitting it out.  she was shocked that i didn't like it, until she realized that there was HOT salsa in her burrito.  she was trying to set my tongue on fire!  so daddy had to share his (mild) burrito with me, and that made everyone happy.  every but daddy, that is.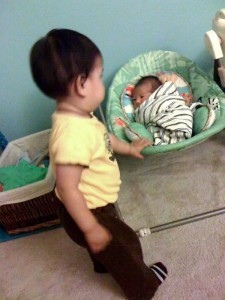 and the second surprise…  baby greyson!  when uncle ed first brought him out, i was terrified.  i didn't even want to look at him.  mama thought i might have been scared because i had never seen a baby so young (11 days old).  but then she remembered that i had met logan when he was only one week old, and he even came over for a sleepover!  but i was so young back then that i barely remember it.
the truth is, when we arrived at baby greyson's house, i was very hungry.  and when i saw him, i got upset because i thought i was going to have to share my burrito with him.  mama and daddy always make me share my things with other kids, especially when they're smaller than me.  but once i finished eating, i was much happier.  i followed baby greyson all around his house.  when he went into his room to play in his swing, i followed him in there and didn't take my eyes off of him.  when his swing stopped moving, i rocked it for him.  and when he fell asleep, i just stood outside his door and watched him sleep.
what seemed like just a few minutes later, baby greyson woke up to eat.  babies sure don't sleep for very long.  after he ate, auntie char put him down in his bassinet.  but the bassinet was too tall, so i couldn't see him!  so i walked all around the house calling him: "baby?  baby?  baby?"  he didn't answer me.  i guess he was sleeping.
when we were getting ready to leave, mama picked me up so i could say bye to baby greyson.  i blew kisses to him and reached out towards him.  mama thought i was trying to give him a hug, but i was actually trying to pick him up so we could bring him home.  isn't that how kids get little brothers? the whole way home, all night last night, and even this morning, i've been looking for him.  "baby?  baby?  baby?"  he's still not answering me.
7 Responses to "baby? baby? baby?"
Leave a Reply